---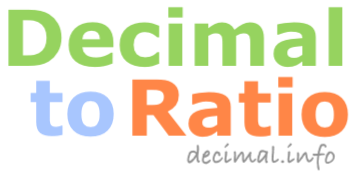 Welcome to our Decimal to Ratio Converter, also known as the Decimal to Ratio Calculator. Use this tool to convert decimal numbers to ratios.
Like with all our converters and calculators, the answers come with detailed step-by-step instructions showing you how we converted your decimal number to a ratio.
Please enter your decimal number in the box below.
Here are some examples of decimal to ratio conversions that our Decimal to Ratio Converter can do for you.
---
Copyright
|
Privacy Policy
|
Disclaimer
|
Contact